What Is Unclaimed Money?
Unclaimed property (sometimes referred to as abandoned) refers to accounts in financial institutions and companies that have had no activity generated or contact with the owner for one year or a longer period. Common forms of unclaimed property include savings or checking accounts, stocks, uncashed dividends or payroll checks, refunds, traveler's checks, trust distributions, unredeemed money orders or gift certificates (in some states), insurance payments or refunds and life insurance policies, annuities, certificates of deposit, customer overpayments, utility security deposits, mineral royalty payments, and contents of safe deposit boxes.
What happens to these accounts that have no activity?
Acting in the best interest of consumers, each state has enacted an unclaimed property statute that protects your funds from reverting back to the company if you have lost contact with them. These laws instruct companies to turn forgotten funds over to a state official who will then make a diligent effort to find you or your heirs. Most states hold lost funds until you are found, returning them to you at no cost or for a nominal handling fee upon filing a claim form and verification of your identity. Since it is impossible to store and maintain all of the contents that are turned over from safe deposit boxes, most states hold periodic auctions and hold the funds obtained from the sale of the items for the owner. Some states also sell stocks and bonds and return the proceeds to the owner in the same manner.
How Does Unclaimed Money DB Work?
When you use Unclaimed Money DB's search, you are searching through over 60+ different sources of unclaimed property. Unclaimed Property may be located throughout various different states and organizations. It is tedious to look through all of them individually, we've made it easy for all of our users to search everyone of them in one location. When you search we will look through over 100 million different claims to see if any exists for you.
If you find a match, we provide all of the necessary forms and instructions so you can claim your lost money. It's simple, you generally just have to download one of our forms and send it to the right location. If it is your money, you will typically receive a check back within one to 6 months. It's really that easy! Click here to get started now!
We also offer claim monitoring to all of our members. When we retrieve new unclaimed money claims, if any of them match your previous search queries. We'll notify you that you have a new unclaimed money claim!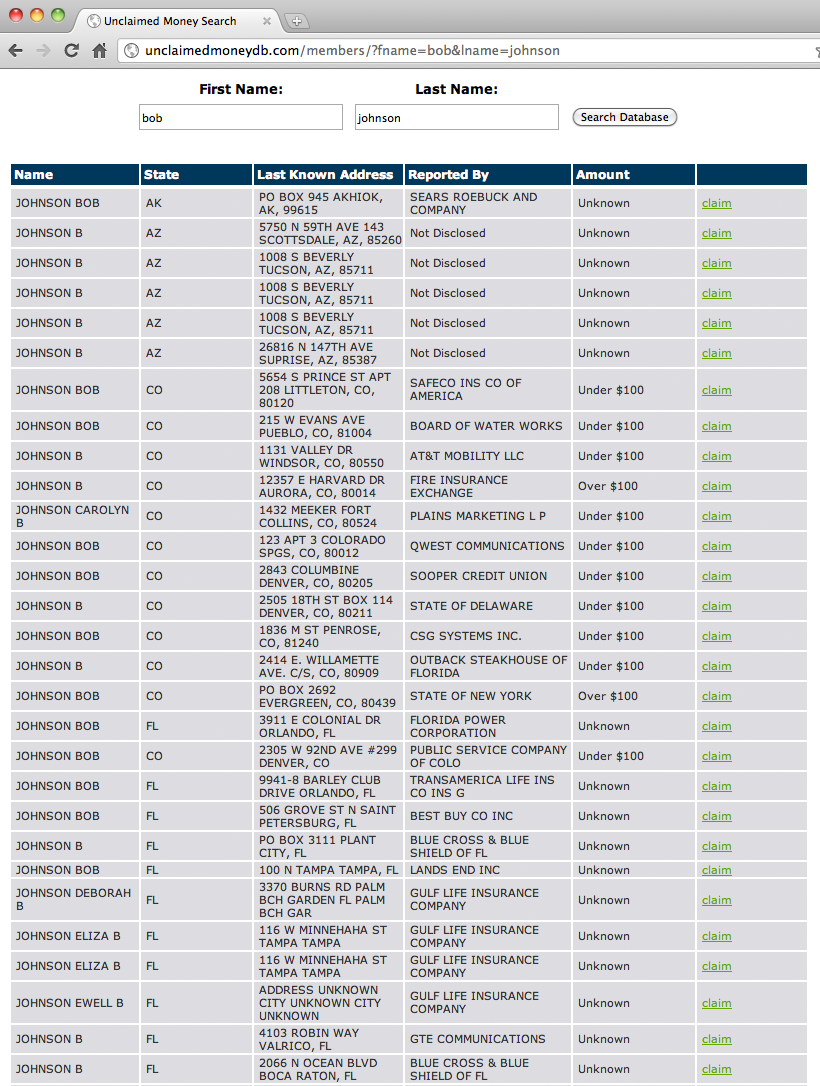 How do I acutally claim my money?
If you find a matching claim, that belongs to you or your family, follow the instructions on our claim page. Every country and state has different rules when it comes to claiming your money. Most require you to fill out a form, get it notarized and send it to the correct government office that is holding your unclaimed money. Some other states allow you to do most of the recovery process online.
After you successfully submit your unclaimed money request to the government agency, you'll likely receive a check in the mail. Here is a real check, received by one of our UnclaimedMoneyDB members in the state of California.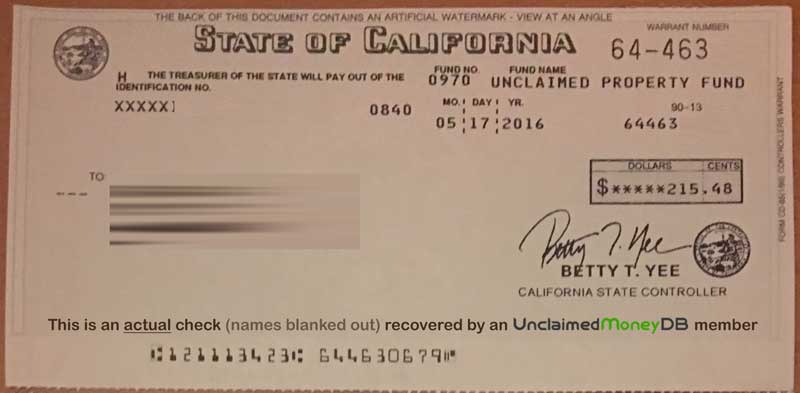 What's included with a paid account?
Paid account will allow you to do the following:
Search for unclaimed property in your name
Search for unclaimed property in your friends and family's name
Provide you with claim forms and instructions to reclaim any lost unclaimed property
Provide a customer support area where you can ask our staff questions about how to claim lost money
How much money is in my name?
Every person is unique and different. It depends, someone people have none and others could have up to several thousand dollars.
What is claim monitoring?
Claim monitoring is a additional service that our customers can buy. This service will alert you whenever a new unclaimed property claim is found that matches any of your previous searches in your account. Whenever you search, we record your searches, so in the future, when we update our databases you'll be notified if there are any new claims that match any of your previous search queries.
What can claim monitoring do for you?
Monitoring you and your family's unclaimed property claims can help you keep track of your potential unclaimed money you are owed, which is particularly useful if you want to track several people, we will track unclaimed property across many different sources. The sooner you're alerted to unclaimed money, the quicker you can retrieve the money, if you do not retrieve your unclaimed property after a certain amount of time it will be handed over to the state.
Can you monitor your unclaimed property without using a service?
You can manually monitor new unclaimed property claims in your name if you'd like. However, because there are so many different websites to look for your unclaimed property it is difficult. And if you want to look for several people with several different name variations it becomes even more difficult.